Something I love about finding vintage objects is the history.  Sometimes pieces are really straightforward.  You find the maker's mark and can figure out the year, or time period at least.  You can determine where the item was made, etc.  But sometimes pieces require a little more detective work.  Have you ever seen the PBS show History Detectives?
When I was about eight months pregnant with the Big Boy, I would get home from teaching elementary school, lay on the couch and watch an episode or two (PBS is a reallllly good channel to have on if you want to take a nap — that's not an insult, just that every show is so calming!)  The show centers around a historical piece that an owner wants more information on.  I've seen them research cars, autographs, flags, books, etc.  Usually the owner wants to know the authenticity of their item.  Sometimes more of the item's history, the story.  I like to consider my research History Detectives Light.  I don't get to travel cross-country to track down information.  My items are usually not as rare as notes written by Abraham Lincoln.  But I do consider them important pieces of history because they all have a story to tell.  And the challenge is trying to figure out that story.
I came across this beautiful French salon sketch/watercolor a few weeks ago.  It reminds me of looking into a dollhouse (I used to spend HOURS arranging and rearranging my dollhouse furniture!).  These photos don't do it justice.  I've had such a hard time getting a good photograph, without glare (see me in there??!).
I was so excited to find this little note on the back:
It states: This drawing was done by my uncle Stanley E. Rittase in the 1920's while he was studying at (L)arrbonne in Paris, France.  His niece, Martha Rittase Garner inherited it. Gift to Steve Snyder 2002.
It is rare that a handwritten note accompanies a piece of art.  This piece is not signed, so I wouldn't have known the artist.  Curiosity struck, and I did a little online research.
I started with the artist's name, Stanley E. Rittasse.  When I Googled his name, the top hit was from Ancestry.com.  Without signing up for the trial, or paying to join the website, I could just see that his father's name was William, and that he applied for a passport sometime between 1795 and 1925.  Digging a little deeper I found that Stanley E. was born in June of 1892 in and died in January 1978 in York, Pennsylvania.  Further down in the search results I found logs from the Ellis Island Ship Database that Stanley E. Ritasse, age 30 from York, PA was on board the President Garfield from Cherbourg, France in August of 1922.  Everything lines up – that Stanley E. Rittase was from York, PA and in 1922 he was returning from France.  I am led to believe that niece Martha misspelled Sorbonne.  I've tried searching for "Larrbonne Paris" and have no luck.  It would make sense that Stanley studied, or took a class (?) at the Sorbonne, and perhaps completed this painting while there.
Upon his return to the United States, it seems Stanley E. Rittase was an art teacher at William Penn High School located in York, PA.  E Yearbook has Mr. Rittase as the faculty adviser of the Student Art Club in 1932.  I am unable to find out much more about his life, but I did find a photo of his grave marking.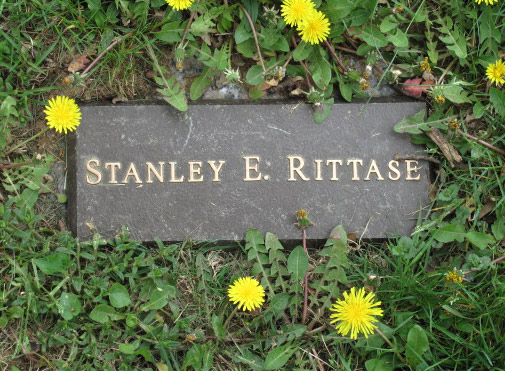 Why bother with all of this?, you're thinking.  Because the piece of art caught my eye.  Someone took tremendous time and effort to create it.  Upon finding the name, I wanted to know a bit more.  And I believe that everyone wants a legacy, some way to be remembered beyond an engraved stone.  Attaching his name and story to this piece of art is one way to keep part of Mr. Rittase alive.
Doesn't an object mean so much more when there's a story with it?
~Kristen
/wp-content/uploads/2013/06/colormepink-header5.jpg
0
0
Kristen
/wp-content/uploads/2013/06/colormepink-header5.jpg
Kristen
2013-11-04 07:00:09
2013-11-03 20:09:41
History Detective Light